Intro
Pretty exciting to follow Scott Young on his cool book Ultralearning.
Seriously, made me reconsider how I approach all projects that I do. Including the one I'm currently on, which I would affectionately call my 100 book challenge.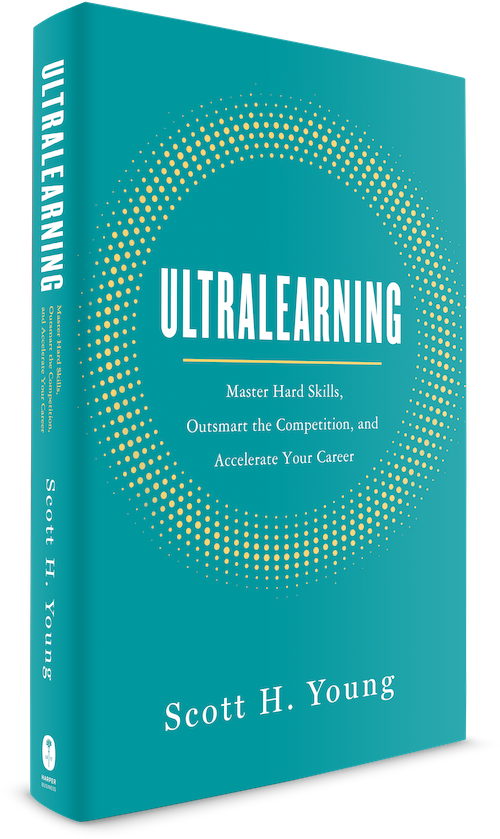 Review
Well there's a lot of things about this book that I don't necessarily agree with, I think that the practical nature the practice , of this book any reader regardless of skill level in any project that they find themselves in.
Where I do find that Scott young falls short is in his understanding of learning, from a psychological basis. In psychology learning is a really difficult thing to measure. So learning has kind of been defined to a change of behavior. Psychologists and scientists can determine whether learning has occurred if behavior has changed. This point is entirely missed by Scott Young, and I think not using a psychological definition of learning underminds a lot of the work that he's doing in this book.
So ultimately, Scott Young's book is describing how to learn, or change your behavior, at a very aggressive rate. Other than that, there's nothing else that I would add or detract from the book. It was a great read through, lots of fun examples and exercises, and useful to anyone who takes self-education seriously.
You can find my bullet notes below:
Alixander's Bullet Journal Notes
There are three kinds of learning: low-intensity habits, formal learning, and ultra learning
There seems to be a subset of learners who take on the task of learning at a super accelerated rate.
Barring genius, these learners rigorously test their limits by making learning an active process.
There is a valid need to adopt ultra learning:

Specialization can easily be disrupted in the market space

Solution: learn new stuff fast

Answer these questions when starting out:

Why am I learning X

Is this subject instrumental value (ie increases my marketability to employers)
Is it intrinsic (ie make me happy to do it or brings me value knowing I can)

What am I going to learn about X

What concepts am I going to learn, or have learned
What facts am I going to learn, or have learned
What procedures am I going to learn, or have learned

How am I going to learn about X

Seek scaffolds, like online syllabuses
Seek mentors who have done it before, or something like what you are trying to accomplish

Focus: initiate, maintain, and optimize
Direct or "hands on learning" is best
Drills are what make the fundamentals stick
Retrieval Testing is how you solidify knowledge

SRS (spaced repetition software)
Concept Mapping
Retrieval quizzing

Feedback can lead to a greater level of learning

Self-assessment feedback is how did I do
Corrective feedback is choose the right answer from many
Information feedback is fill in the blank
Object feedback is pass/fail

Remembering

SRS
Proceduralization
Over-learning
Mnemonics

Intuition

Come up with examples
Start from the beginning like you don't know
Try to make it concrete by making real the concept

Experiment

Meta-learning
Aggressive experimentation

learn from diverse realms
Drill down to learn more
Try different styles

Adopt a growth mindset

Copy (ie recreate another artist)
Compare (ie compare your work to theirs)
Constraint (ie try it again with your other hand)
Consistency (ie do it again and again and again)

How to do an ultralearning project

Do research

Topic & Scope
Primary Sources
Benchmarking
Direct Practice

Schedule Time

How much time
When (consistency)
Length of time
Pilot week (trial run)

Execute

Metalearning
Focus
Directness
Drill
Retrieval
Feedback
Retention
Intuition
Experimentation

Review results in the end
Maintain or master